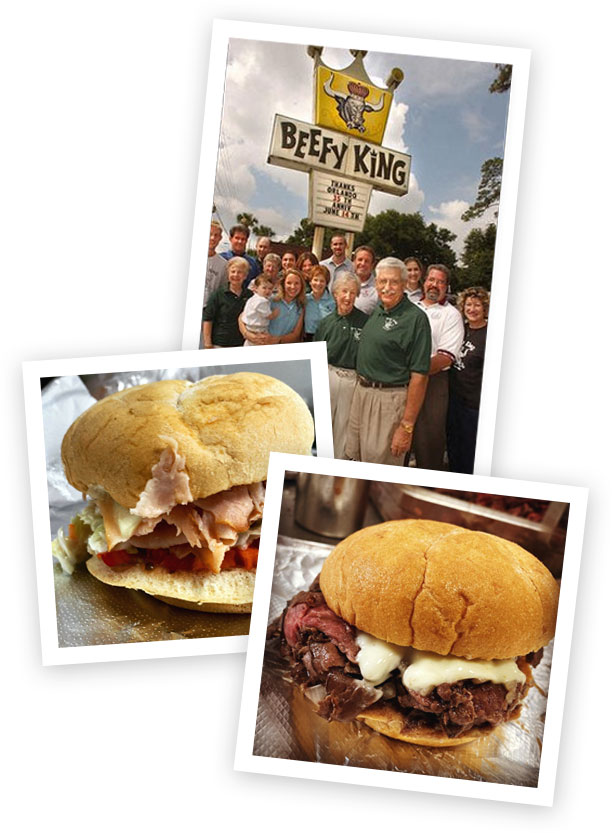 SERVING THE BEST ROAST BEEF SANDWICH FOR OVER 50 YEARS!
Beefy King has been serving an award winning product since 1968, all starting with Freeman and Margaret Smith who created the successful restaurant and sandwich shop. Best known for its uniquely steamed hot and fresh roast beef sandwiches, Beefy King has become a landmark in Orlando, Florida and three generations have operated the family-owned establishment.
Beefy King has become a tradition within Orlando. Our menu includes a mouthwatering selection of roast beef, ham, turkey, pastrami, corned beef, BBQ beef and BBQ pork sandwiches all served hot, fresh and made to order. Serving up a variety and freshness at an affordable price, our competitors just can't beat it.

Phone & location
Phone: +1407-894-2241
Location: 424 N Bumby Ave, Orlando, FL 32803, USA

operating hours
Mon-Fri: 10AM–5:30PM
Saturdays: 11AM–3:00PM
Sundays: CLOSED

On social media